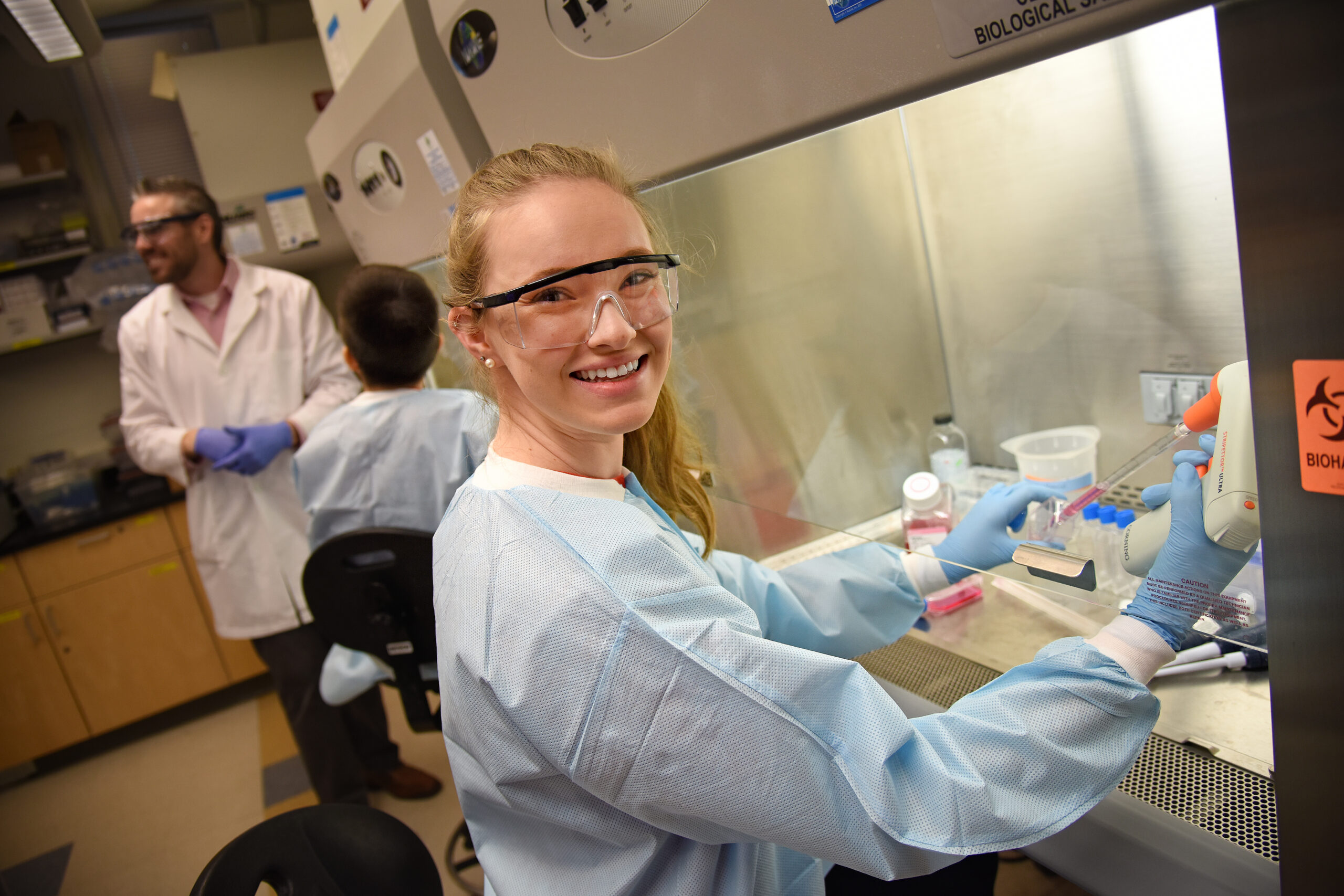 Our Master of Science (M.S) in Microbiology degree program provides students with an in-depth understanding of microorganisms, interdisciplinary research training, and opportunities to develop science communication skills. Students graduate prepared for successful careers in research, academic or industrial settings.
Join the Pack
Review Our Admissions Requirements and Apply Now! 

Curriculum and Courses
The Microbiology Graduate Programs at NC State are interdisciplinary. Our M.S. students take many courses taught by MGP faculty, as well as elective courses offered in numerous disciplines and departments across campus, including Biochemistry, Biotechnology, Animal Science, Food Science and Genetics.
All microbiology graduate students must maintain a minimum cumulative GPA of 3.0. The Graduate Student Support Plan (GSSP; tuition and health benefits) also requires continuous enrollment, meaning all graduate students must enroll for a minimum of nine credits in each Fall and Spring semester to qualify. After the first year, most of these are Research credits.
In our two-year M.S. program, students need to complete 30 credits total, of which 18 credits must be graded. Completion of all credit requirements and submission of a thesis is required for students to complete the M.S. degree.
Required Course Credits for a M.S. in Microbiology
Course Number
Course Name
Credits
MB 500-800
Microbiology Courses
6+
MB 670
Laboratory Research Methods
1
MB 686
Teaching Experience
1
MB 601
Seminar in Microbiology
2
MB 695
Master's Thesis Research
6
variable
Professional Development
1
500-800
Graded Courses
(MB or others)
6+
All 500-700 level courses are letter graded. 800 level courses use satisfactory/unsatisfactory grading policies.
Required Courses
As listed above, students are required to register for the following:
Advisory Committees
Upon admission to the graduate program, the Director of Graduate Programs (DGP) serves as a temporary advisor for all MGP students. M.S. students must select a thesis advisor and a graduate advisory committee by the end of their first year in the program. The M.S. advisory committee consists of a student's thesis advisor and at least two additional MGP faculty members.
All required committee members must hold appointments within the Graduate School at NC State. Students may select scientists who are not members of the Graduate School faculty (e.g., adjunct faculty, industry scientists) for their committee, but it is in addition to the required members. Graduate advisory committees must meet no less than once a year.
Graduate Plan of Work (PoW)
A Graduate Plan of Work (PoW) includes all courses, a tentative thesis title and an anticipated timetable for taking each course and must be outlined by a student and their advisor before the end of the first semester. Students then submit their PoW to their advisory committee for approval or amendment. Once approved by their committee, the PoW must be formally submitted to the Graduate School by no later than the end of a student's first year at NC State.
Visit the Graduate School website for more information about the graduate PoW.
Annual Research Progress Reports
The MGP will facilitate scheduling an annual meeting of the student's advisory committee, at which the student will make an oral presentation and submit a written report on their laboratory research. A Graduate Student Progress Evaluation Form will be completed by their advisory committee. A satisfactory evaluation will be necessary for the student to receive financial support and/or be able to register for the next semester.
Thesis and Defense
A written thesis is required for completion of our M.S. in Microbiology degree. Students must conform to the requirements outlined in NC State's "Thesis and Dissertation Guide". Thesis content and structure must be approved by a student's advisory committee, and all degree candidates are expected to prepare their research for publication prior to completing their program.
In addition to preparing a thesis, M.S. candidates are encouraged (but not required) to present their research in a seminar prior to their thesis defense with the advisory committee. M.S. students be registered for MB 690 (Master's Exam) the semester they defend.Upon a satisfactory defense of a thesis, the advisory committee will approve it for transmittal to the Graduate School.