Curriculum
Our curriculum integrates science and business knowledge with professional training in the biotechnology industry. 
Training Bioscience Industry Leaders
The MMB curriculum features a unique blend of science and business courses along with a guest speaker series that features industry leaders. Through partnerships with bioscience companies, it also offers practicum projects, internships and other opportunities that help students develop the practical knowledge and invaluable professional skills they need to succeed in today's competitive marketplace.
MMB Graduates:
Possess extensive knowledge of science and business
Demonstrate flexibility of professional skills in multiple industry sectors
Adapt to change
Foster productive dialogue between individuals, companies, and communities
Apply creativity and innovation to solve problems
Work confidently with big data management
Cope with uncertainty and risk
The MMB curriculum includes courses from the College of Agriculture and Life Sciences (CALS), the Biotechnology Program (BIT), the Biomanufacturing Training and Education Center (BTEC) and the Poole College of Management.
Customize Your Degree
MMB students can choose to focus on particular concentrations that align with their career interests. Concentrations are an option and are not required.
Required Coursework
Forty one credit hours are required for graduation, including:
25 credits of required courses
13 credits of elective courses
3 credit-hour summer internship
Elective Coursework
Students select one science elective, two biotechnology or biomanufacturing electives, and two MBA electives.
Science Electives
Students must complete at least one science elective (3 or 4 credits).
Biological and Agricultural Engineering (BAE)
BAE 525 – Industrial Microbiology and Bioprocesses
BAE 528 – Biomass to Renewable Energy Processes
Biochemistry (BCH)
BCH 553 – Biochemistry of Gene Expression
BCH 555 – Proteins and Molecular Structure
BCH 571 – Regulation of Metabolism
BCH 701 – Macromolecular structure
BCH 703 – Macromolecular synthesis and Regulation
BCH 705 – Molecular Biology of the Cell
BCH 751 – Biophysical Chemistry
Comparative Biomedical Sciences (CBS)
CBS 565 – Fundamentals of Biomedical Sciences
Food Science (FS)
FS 502 – Chemistry of Food and Bioprocessed Materials
FS 553 – Food Law and Regulation
Genetics (GN)
GN 513 – Advanced Genetics
GN 521 – Molecular Genetics
GN 730 – Fungal Genetics and Physiology
GN 735 – Functional Genomics
Microbiology (MB)
MB 501 – Biology of Plant Pathogens
MB 505 – Food Microbiology
MB 532 – Soil Microbiology
MB 575 – Introduction to Mycology
MB 718 – Introductory Virology
MB 725 – Fermentation Microbiology
MB 730 – Fungal Genetics and Physiology
MB 751 – Immunology
MB 758 – Microbial Genetics and Genomics
MB 774 – Phycology
Plant Biology (PB)
PB 580 – Introduction to Plant Biotechnology
Plant Pathology (PP)
PP 530 – Agricultural Ethics and the Environment
Statistics (ST)
ST 511 – Experimental Statistics for the Biological Sciences I
ST 512 – Experimental Statistics for the Biological Sciences II
ST 513 – Statistics for Management
ST 520 – Statistical Principles of Clinical Trials and Epidemiology
Toxicology (TOX)
TOX 515 – Environmental Toxicology
TOX 710 – Molecular and Biochemical Toxicology
Biotechnology and Biomanufacturing Electives
Students take two BIT and/or BEC elective courses (4 credits).
Biotechnology (BIT) – 2 credits each
NOTE: Not all BIT courses are offered every semester. Visit the Biotechnology website for details on BIT courses.
BIT 562 – Gene Expression: Microarrays
BIT 563 – Fermentation of Recombinant Organisms
BIT 564 – Protein Purification
BIT 565 – Real-Time PCR Techniques
BIT 566 – Animal Cell Culture Techniques
BIT 567 – PCR and DNA Fingerprinting
BIT 568 – Genome Mapping
BIT 569 – RNA Purification & Analysis
BIT 581 – Plant Transformation
BIT 595 – Special Topics
BIT 815 – Advanced Special Topics
Biomanufacturing (BEC) – 2 credits each
Visit the BTEC website for details on BEC courses.
BEC(MB) 520 – Fundamentals of Microbial Cell Biotransformations
BEC 532 – Biologic Procession Science
BEC 536 – Introduction to Downstream Process Development
BEC 542 – Insect Cells Protein Expression
BEC 575 – Global Regulatory Affairs for Medical Products
BEC 580 – cGMP Fermentation Operations
BEC 585 – cGMP Downstream Operations
BEC 595 – Advanced Topics in Biocatalysis
Master of Business Administration (MBA) Electives
Students must take two MBA electives (6 credits).
BUS 554 – Project Management
MBA 555 – Product Design and Development
MBA 570 – Entrepreneurship: Managing the Growth Venture
MBA 576 – Technology Evaluation and Commercialization Concepts
MBA 577 – High Technology Entrepreneurship (prerequisite: MBA 576)
MBA 586 – Legal and Marketing Dynamics in Pharmaceutical and Biotechnology (fall only)
MBA 590 – Special topic classes; vary by semester/year; approval required before registering
NOTE: Students who choose to pursue the MMB/MBA dual degree option have the option of a concentration in either Biosciences Management or Entrepreneurship. The MBA concentration chosen by the student will dictate which MBA electives the student will take in the MMB program. More information about this can be found on the MMB/MBA dual degree page.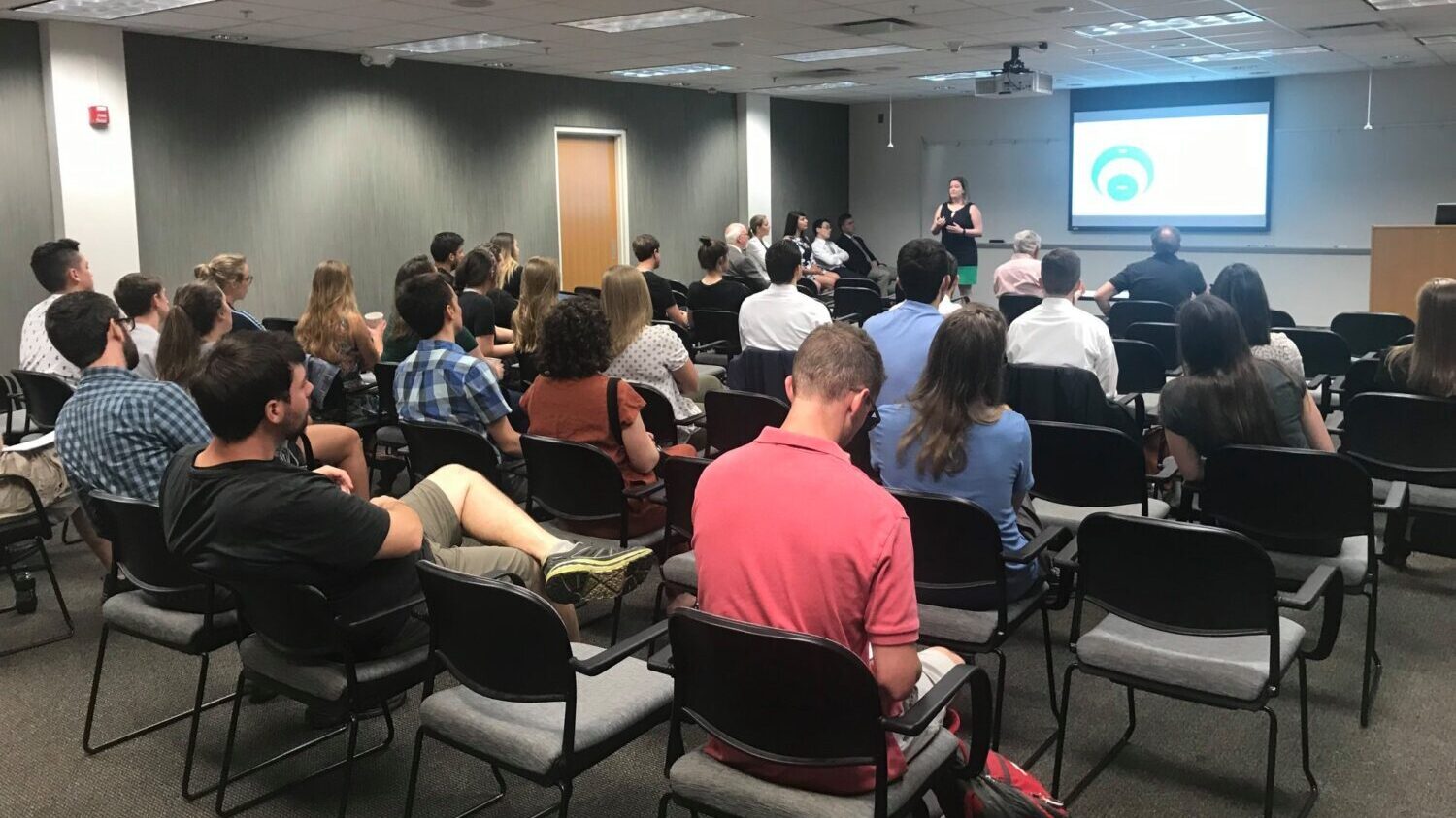 Here is an example of a typical course schedule for our two-year program. Course sequence may vary depending on availability and concentration.
Note: Please refer to individual concentration pages for sample course schedules for each concentration.
Year One
Year Two
Fall Semester #1
– MB 585 Case Studies (required)
– BIT 510 (4 credits) OR BEC 525 and BEC 545 (4 credits total)
– Core Microbiology Course Choice (MB 714 is the recommended course)

Fall Semester #2
– MB 585 Case Studies (required)
– MB 620 Industrial Internship (required)
– One or Two BIT or BEC Electives (2 credits each)
– MBA 586 or MBA 576 or MBA elective
Spring Semester #1
– MB 585 Case Studies (required)
– Core Microbiology Course Choice or BIT 510 (if not taken in the previous semester)
– Elective
Spring Semester #2
– MB 590 Capstone Course (required)
– Science or BIT/BEC elective or other required course not yet taken
– One or Two BIT or BEC Electives (two credits each)
Summer Semester #1
Industrial Internship Experience
Summer Semester #2
MMB/MBA dual degree students may choose to complete their Second Industrial Internship Experience (if beginning MBA program the following semester)