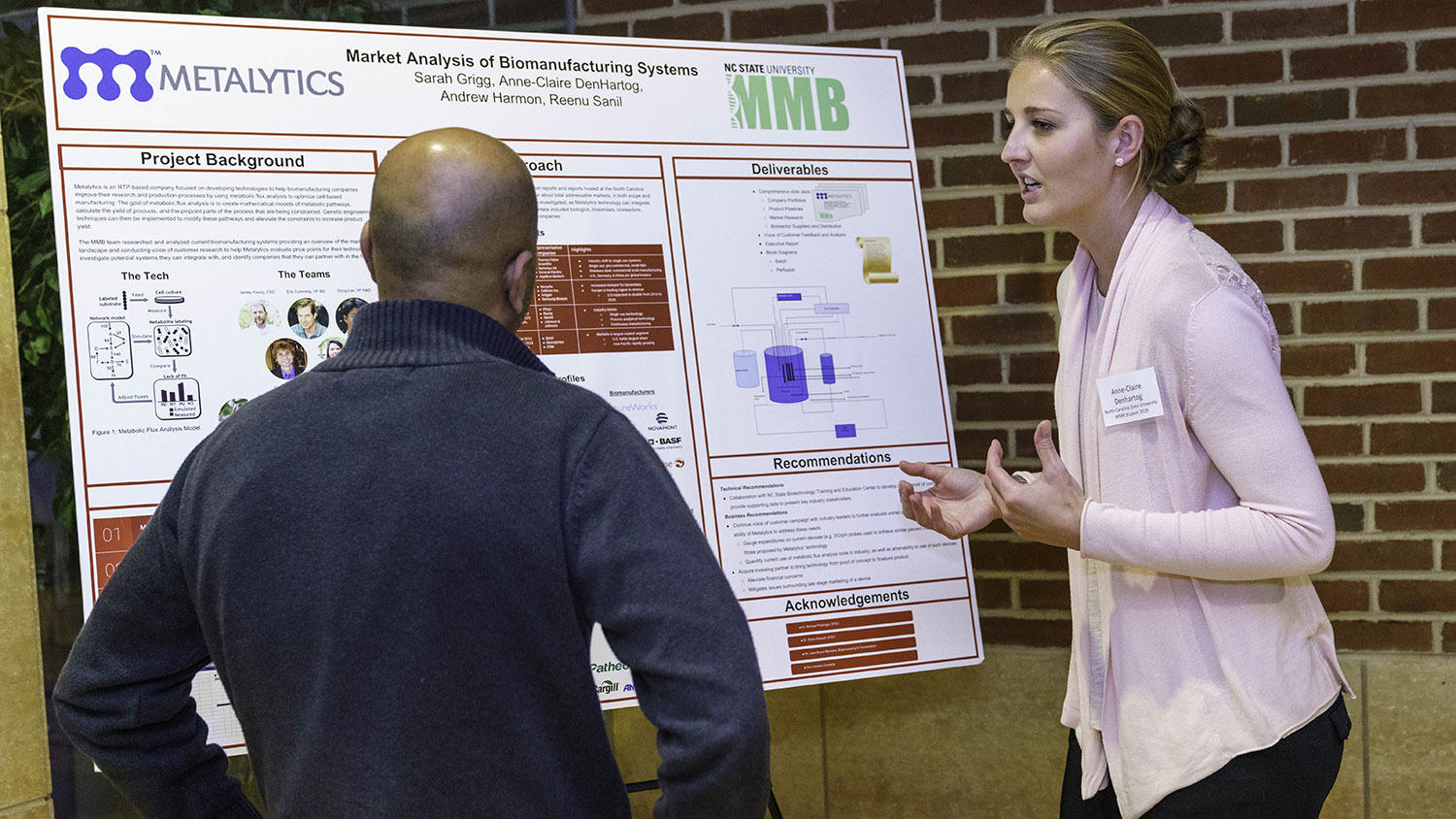 Facts and Stats
Here are some of the facts and statistics that set the MMB program at NC State apart from the rest.
Driven and Experienced Students
We admit approximately 15 students each year. This small class size allows us to tailor the program to meet each student's specific goals. Each student cohort has unique traits, but typically:
44% of students have industry experience prior to enrollment
56% enter the program directly after undergraduate study
Over 150 Graduates since the start of the MMB program at NC State.
100% of MMB graduates report being satisfied in their careers.
93% Job Placement Rate
Three Months After Graduation With an Average Salary of $ $91,949 Within Six Months of Graduation
Interdisciplinary
Students take courses with faculty from various disciplines to gain fundamental knowledge in both biosciences and business. Along with the industry practicum project and internship, this interdisciplinary curriculum provides students with the necessary professional skills to achieve to their career potential and goals. Additionally, the diverse course offering allows students to focus on a specific area or explore their interests.
We offer courses across colleges, programs and departments at NC State, including:
Close to RTP
NC State's campus is only 15 miles from Research Triangle Park (RTP), the third-largest biotech hub in the United States. RTP is home to over 600 life science companies, making it an ideal area for internship and post-graduation job opportunities.
Earn an MBA
Students can choose to pursue a dual MMB/MBA degree, which adds just one additional year to the program. It's a cost-effective option to earn two professional degrees simultaneously. MMB students must apply to the Jenkins MBA program separately during the summer or fall of their second year in the MMB program. Additionally, students must take a minimum of 9 MBA credit hours and can transfer up to 12 MBA credits.
39.5% of MMB students enter the MBA program
A majority of students earn their MBA in one year
Dual degree holders earn ~17% higher average salary