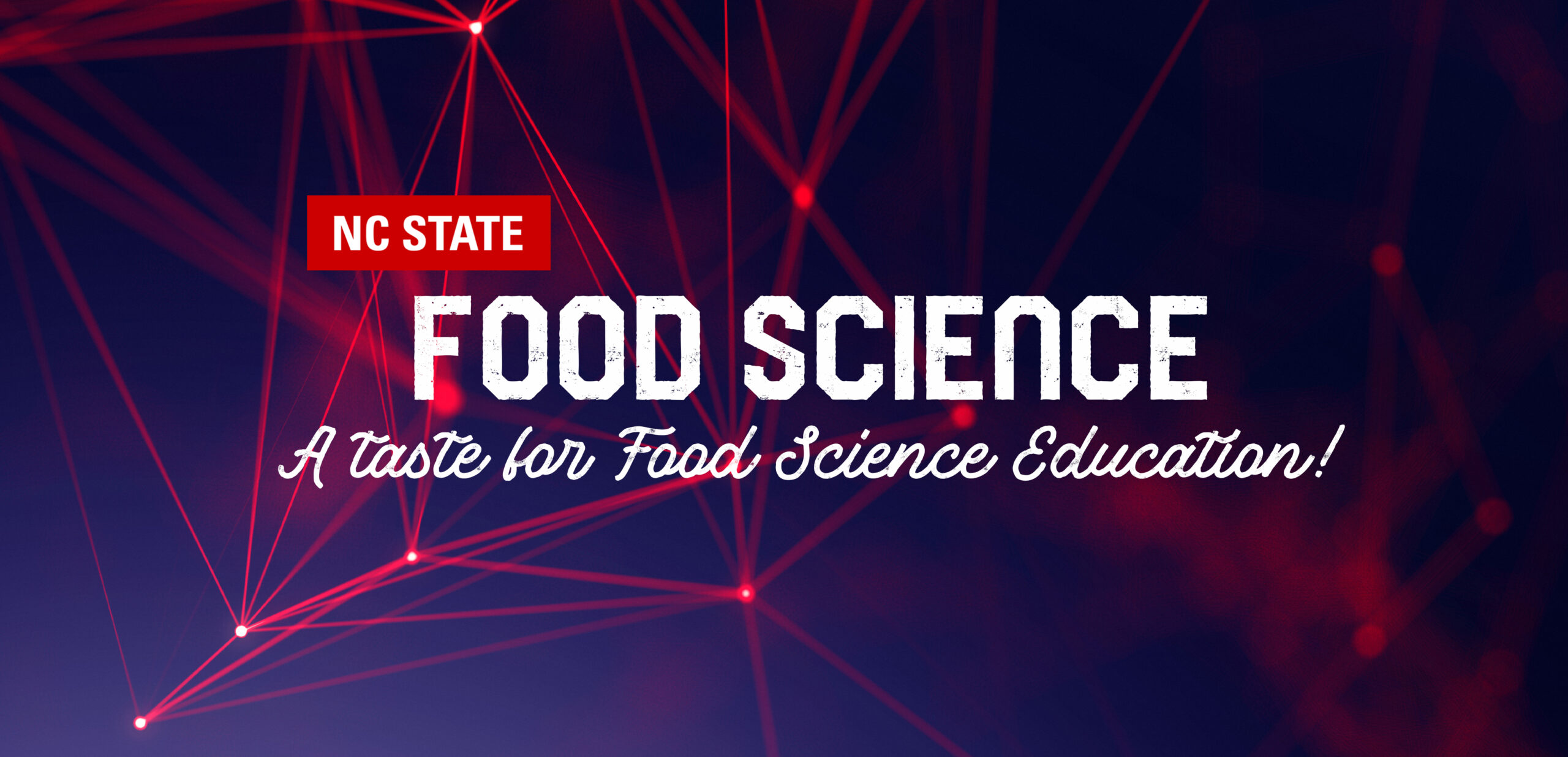 Call for Participants
We are hosting events to foster the next generation of food scientists emerging from High Schools.
Food Science Teacher
Fellows Program
We have an exciting opportunity for teachers to collaborate with NC State!
Applications open December 2022 for summer 2023 fellowships, stay tuned!
Partner with a local food or beverage company for an externship experience.
Collaborate with NC State curriculum development specialists to create lesson plans.
Build a community of practice with other food science teachers and present project at teaching conferences.
Receive a $2,000 stipend.
Apply for $500 grant to purchase materials to support your classroom.
Interested? Click the Apply button bellow!
CASE Institute 2023
The Food Science and Safety course is aligned to Common Core and Next Generation Science Standards. Click here to learn more.
Hybrid Schedule for CASE Institute 2023
This course will be held both in-person and online. Participants will have five days in-person on the NC State University Campus at Schaub Hall, 400 Dan Allen Dr, Raleigh, NC 27606 followed by two days online.
In-person orientation: Sunday, July 23, 2023, 5 pm
In-person dates: Sunday, July 23– Friday, July 28, 2023
Online orientation: Monday, July 10, 2023, 6-7 pm
Online dates: Monday, July 31, 2023 – Tuesday, August 1, 2023
Schedule:
(M-F) Classes will be held synchronously from 8 am – 5 pm. There will be a one-hour lunch break each day.
Participants will have homework, which can include group projects, to be completed outside of classroom hours
Cost: $2,900
In-person days: Participants receive lodging and meals at NC State University's campus. Transportation to and from NC State and parking are not included.
Online days: Participants receive all materials needed to perform hands-on experiments mailed to their homes.
Read the FAQs about this professional development opportunity.
Are you a teacher in North Carolina? We have 9 full and 2 partial scholarships to attend this CASE course. Please note you must attend all days of the class in full in order to receive the scholarship. So check your schedule and availability! Submit a scholarship application now at the link below:
Connecting Food Scientists
with the Classroom
Three regional events will be held to allow high school students and their teachers to ask questions of one or more food scientists actively working in the field. The events will be at food/beverage companies located in the western, Piedmont, and coastal areas of North Carolina. When possible, a plant tour will be arranged.
The events will highlight the food manufacturing facilities in the geographical area surrounding students, thereby allowing students to explore opportunities in food science careers.
Building relationships between teachers and food industry representatives will facilitate internship opportunities for high school students interested in food science as a career. The regional events will be utilized to build anticipation for the final event, the Food Science Co-operative, to be held at NC State.
Questions will be solicited from teachers and students prior to the event in addition to any that come up during the event. This will allow the guest to prepare answers. This event offers the flexibility of having conversations in a virtual environment if needed.
Interested in hosting a virtual conversation with a food scientist in your classroom?
Food Science Invitational
NC State is hosting an Invitational event for the "Taste of Food Science" program. Dates and Times to be announced for 2023, check back here soon to find out more!
Are you interested in pursuing food science as a career? NC State has an undergraduate program for you! Our Food Science degree program entails a Bachelor of Science and prepares you for an exciting career in the food industry! Choose from a wide array of food careers such as
Flavor chemistry

Food packaging/ processing

Food safety

Product development

Food product development

Government regulation

Quality assurance

Food microbiology

Food regulation/ compliance

Pharmaceutical/ fermentation

Sensory science
Examples of Food Science careers.
A tour of Schaub Hall will show you what a day in the life of a food science student looks like: see our research laboratories, tour the Howling Cow dairy facility (and taste some of NC State's very own ice cream!), meet our professors and speak with industry leaders about all that a Food Science Degree can prepare you for. Learn about NC State's Food Science Club. Take part in a virtual tour of our Kannapolis (Innovation Lab) and Morehead City (Seafood processing) food facility.
We will also map out the steps you need to take in order to apply to this program
We have spots for 35 students to take part in this invitational, sign up will be announced soon!
Regional Food Science Meet Ups
Exclusive opportunity for the first 15 students that sign up!
Both events will feature a factory tour, networking with food scientists who work in the region, info sessions about food science careers, networking with NC State food science club members, as well as info session about the food science degree at NC State.
First option for Meet Up:
Acme Seafood
April 14, 2023 – Wilmington, NC
10-3 pm, lunch provided.
Second option for Meet Up:
TK Family Farm
April 28, 2023 – Rutherfordton, NC
10-3 pm, lunch provided.
Wolfing Down Food Science Podcast
Ever wonder about how your food makes it from the farm to your table? There is a lot of food science along the way. Not a culinary or nutrition podcast, Wolfing Down Food Science is all about the chemistry, microbiology and engineering of food. Questions or comments? Send us an email at wolfingdownfoodscience@gmail.com
Taste of Food Science Sign Up
Get the latest news about this program.